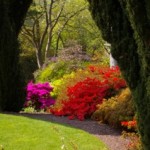 When I think of Spring I think of new beginnings, change, possibility.I see things through fresh eyes taking in the world with new perspective ,noticing the detail .
What  change do you want to make this year?
What qualities would you like to grow this year?
In making the change what possibility does this open up for you ?
Could therapy support the changes ?
The way in which we work is directly related to the issues the client brings to therapy, as well as the outcome we contract for. So if someone comes to therapy due to a specific event that has, or is causing him or her difficulties, and they wish to explore how they can resolve this we are likely to consider that the client wants counselling.
If a client comes to therapy with a generalised dissatisfaction with how they experience themselves, others or the world in which they live, we would explore through the contracting process the usefulness of psychotherapy for the client. We would see this particularly indicated if someone wonders why the same unpleasant events repeatedly occur in their lives.
Sometimes clients may come to therapy initially for counselling following an event, and then discover that their own beliefs, behaviours or feelings have contributed to the difficult event occurring in the first place. At this point the client may wish to re-contract for a psychotherapy contract, which not only explores current options but also explores the ways in which they can bring about lasting positive change in themselves.