My style of working is integrative . My initial focus is to listen to you very carefully. However what I offer is a relationship. Within this relationship you are free to use all the resources I have to offer, including my training, experience and who I am as a human being. The therapy, which is offered, can be from different models. Primarily it is Person Centred. Other types of therapy are used like CBT, Solution focused, TA, Gestalt; The Creative Therapies used are art, drama and psychodrama. All these therapies cooperate with unconscious material enabling a person to find their own solutions.
The counselling / psychotherapy offered enables the client to feel supported in knowing what is best for themselves and deciding and accepting responsibility for what changes might be made. Over all my counselling / psychotherapy function is to facilitate and support. The therapy I offer is provided according to need, i.e. pace and frequency suitable to the client. My therapy, supervision work is frequently supervised. Currently I access peer, group and individual supervision.
I work from a venue in HX5 offering counselling, psychotherapy, supervision and mentoring.
Qualifications
Bachelor of Science with Honours in Counselling Studies
Honours National Diploma in counselling
Honours National Certificate in counselling
Connexions Diploma — working for change with young people
TA 101
Cert in Creative Person Centred Supervision
MBACP(Accred)
UKRCP Reg
UKATA Member
UKATA RTE Diploma TA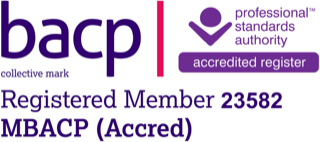 Practice
I am a Therapist, Supervisor and Trainer.
I have been in private practice as a therapist since 2000 and Supervisor of students and qualified practitioners since 2004. I work in Calderdale and Kirklees and surrounding areas providing counselling and psychotherapy to Individuals (adults) couples and young people, and offer clinical supervision to other professionals.
I have over 15 years experience of working with secondary schools and supporting young people and their significant others. My work enables young people to take full advantage of learning, employment and culture opportunities by raising their aspirations, self-confidence and opportunities. I aim to help young people, families and schools to deal with problems, which may be preventing young people to realise their full potential.
I am in supervision according to the requirements recommended by BACP and am committed to personal therapy. I offer a service, which upholds your confidentiality in a safe environment. I am a member of British Association for Counselling & Psychotherapy and am an accredited Practitioner MBACP (Accred). I am a registered independent Counsellor/Psychotherapist with UKRCP, The United Kingdom Register of Counsellor and Psychotherapists. I am a member of UKATA, the UK Association for Transactional Analysis
I work with a wide range of issues, including some of the most difficult and challenging aspects of relationships. These include racism, transition/life change, crisis intervention, anxiety/panic attacks, stress, anger management, relationship difficulties, abandonment, loss/grief, depression, abuse, eating disorders, obsessional behaviour, and bullying and conflict resolution. I have also worked with groups and individuals building confidence, enabling effective Communication personal and professional development, exploring issues around self-esteem, self worth and traumatic experiences past and present (mental, physical and sexual).
Current Training
Working towards Cert. TA Psychotherapist. 22hrs every 8 weeks
Ongoing
Working with Huddersfield University Human and Health Science department in tutoring of students.
Supervision of individual staff – MIND, KRASACC, Kirklees Council, Well Women Centre, Leeds Counselling Service, those working privately.
From September 2009 I have taken up a post as Affiliate counsellor for Northorpe Hall Trust supporting young people in accessing counselling.
As an affiliate practitioner for Insight Health Care formerly known as Oakdale I support this service in offering qualitive counselling support to their client group.
I have worked with The Validium Group which is an employee assistance, psychological rehabilitation and wellbeing provider that works in partnership with HR, Healthcare and OH professionals to prevent and overcome the stress, absence and trauma issues that can limit the ability of people to perform at work.
Further information
2009-2011 I have provided group supervision and training workshops for staff at KRASACC (specialising in offering support for victims of rape and domestic violence).
In December 2009 to June 2010 I agreed to support Oakdale Services (now known as Insight Health Care) as Case Manager supporting the appropriate allocation of cases to practitioners throughout the country in support of the Employee Assisted Programmes and Authority Support Programmes contracts. Having to manage case loads suppport practitioners in supervision of their cases and manage a 24 helpline which provides counselling support and advice for users country wide.
I have developed a range of training courses and experiential workshops, and worked with Universities, Colleges, and voluntary organisations including Northorpe Hall Child & Family Trust, Mind, Well Women Centre, KRASACC, NACRO (the crime reduction team) Wakefield Targeted Youth Support, Kirklees council – Anti Social Behavior Team (ASB) and Domestic Violence Team.
Client Comments
"I am so very appreciative of Jill's wonderful capacity to listen and understand and heal. I could say so much more but all I really need to say is thank you so much on my behalf and my beautiful children. This is a truly life saving service and done with the utmost care and concern at all times."
"Just a quick note to say thank you for taking the time to listen and help me over these last weeks. I know it is your job to do so but speaking with you has made me realize I'm not alone in the world"
"Thank you for supporting me in transforming 'Who I am' in my life. The experience has been amazing"
Supervisee Comments
"I want to say how I value our supervisory relationship, which for me is much more than an ethical necessity. The non- judgemental and unconditional positive regard, which I seek to provide in my relationships with clients and with my co- workers as coordinator of Dove House, is what I experience and value in my supervision with you. You both support and challenge me and within that I feel held. I appreciate working creatively at times and your skills in this area and your encouragement to try alternative ways of thinking and bouncing new ideas are useful. I appreciate your teaching and sharing of knowledge. I respect your boundaries and feel respected within them. I feel I can be open and honest with you whatever my feelings, knowing that you also have your own self- care in place."
"There are many benefits to this supervision, I have never received supervision like it before, if I have had it, it has been poor and more about getting the job done and not about me as a person. I like that it is a 'space' away from my normal work environment. I feel supported, listened to, acknowledged, not judged, you have enabled me to gain greater insights into myself, which resulted in me being able to make meaningful positive changes in my life. As a result I am a happier, self-motivated, more effective and balanced (well more of the time!) employee, colleague and facilitator' And I reading the above makes me feel very blessed, thank you Jill."
"Jill has enabled me to see my capabilities and given me new confidence when Working with complex clients. It is her willingness to support and observe impartially My work through supervision that offers me something I will be forever mindful of And that is that my supervisor has given me faith in myself and courage to believe that I am a good practitioner."
Training Comments from Participants
"Enlightening and helpful, valuable, enjoyable evening"
"The creative side was fun and an easier way to learn"
"Found it useful to look at the range of emotions and the way to defuse the anger"