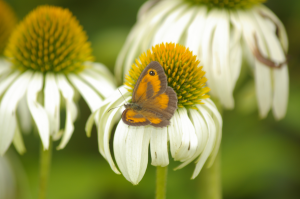 Nurture and Nature
Without the touch from passing insects our flowers would not reproduce and die.  Without the pollen from our flowers our insects would shrivel up and die.
Every person has the need to be touched and to be recognized by other people.  These are biological and physical needs which can be thought of as "hungers".  These hungers can be appeased by recognition – a stroke. Strokes can be given in the form of actual physical touch or by some symbolic form such as a look, a word, a gesture or an act that says "I know you're there".
Do you know some one who holds resentments and then blows up at slight provocation?
Do you know someone who rejects compliments when they're given?
Do you know someone who shows appreciation and is a pleasure to be around?
If you do you have observed people giving and receiving positive, negative and counterfeit strokes.
People need strokes to survive. Positive strokes leave the person feeling good, alive, alert and significant, feeling "I'm Ok".
So my stroke to you all today is: a smile and an acknowledgment that you are there.
Jill D-P